239
Head of Siauliai town and district
September 10, 1941
No. 1875
Siauliai
To all heads of parish and burmisters of secondary towns
INSTRUCTIONS TO LIQUIDATE JEWISH AND RUN AWAY COMMUNIST'S
MOVABLE PROPERTY
1. From collected property there shall be left and further safeguarded until my separate notice excellent furniture, rolls of textile and new shirts. Lists of this property shall be delivered to me.
2. Other descent property shall be furnished in your institutions as schools, parishes, post offices, sanctuaries, hospitals etc. but no less than 1/4 of such descent property shall remain and be kept safe until my separate notice. Lists of remaining property shall be delivered to me.
3. All other remaining property half shall be distributed to ones suffered from war, other half sold in auction. All other property not suitable for any use should be destroyed at place.
4. Live and material inventory of agriculture, necessary for this activity, shall be leased along with immovable property to temporary lessees.
5. Money received from sold goods [crossed out: and treasures found] shall be deposited into District Administration account.
6. To draw up excuse acts for liquidated property and keep them in your cases. Acts are confirmed by heads of parish and burmisters.
7. Make commission for property division and liquidation, in presence of police representative.
8. Divide and liquidate property as soon as possible and report to me.
9. Expenses incurred in property liquidation shall be covered by money held in paragraph 5.
Head of town and district [signature J Noreika]
Manager of jewish movable and immovable property [signature]
---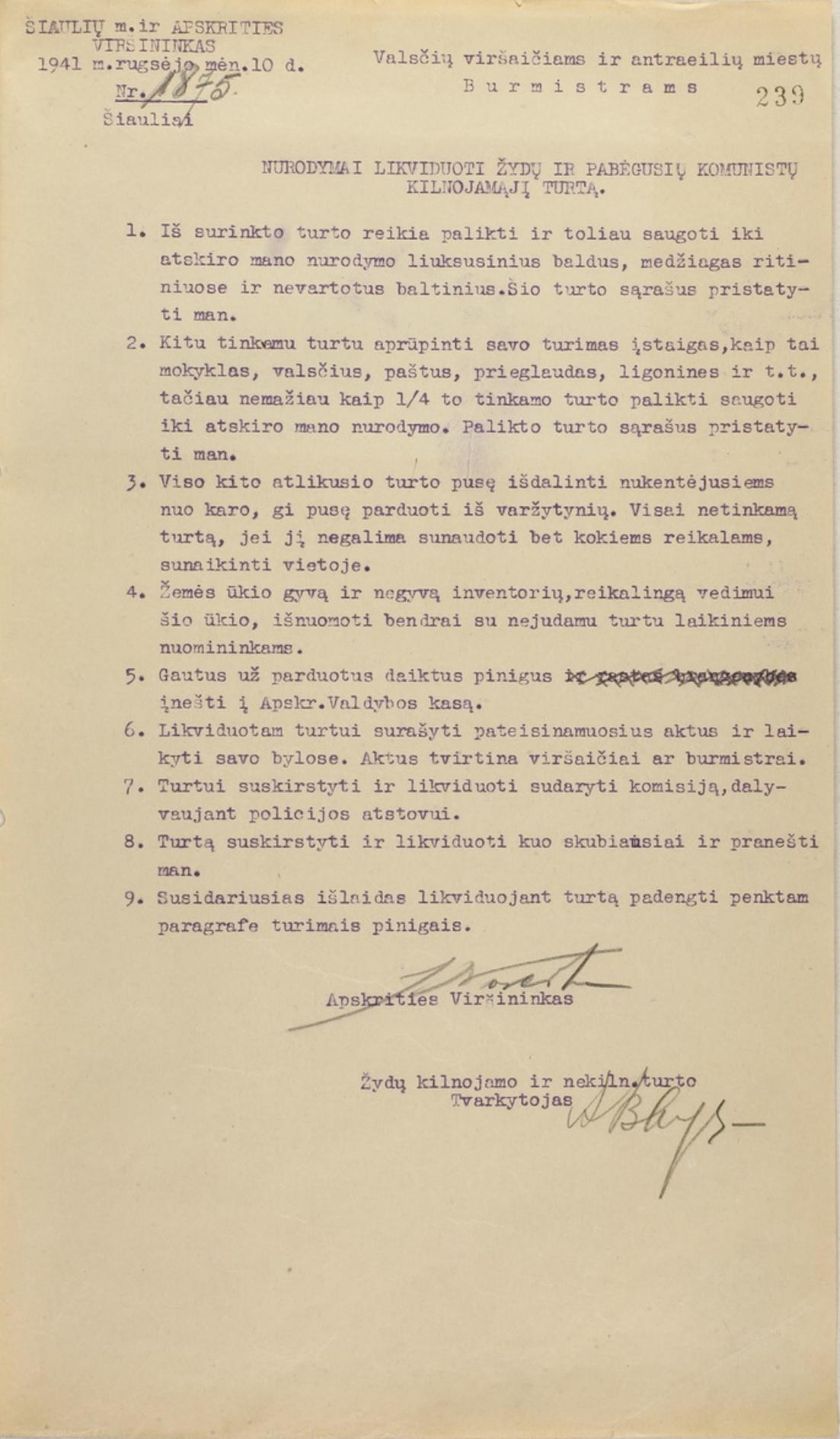 ---